Written By: Anna Giannakouros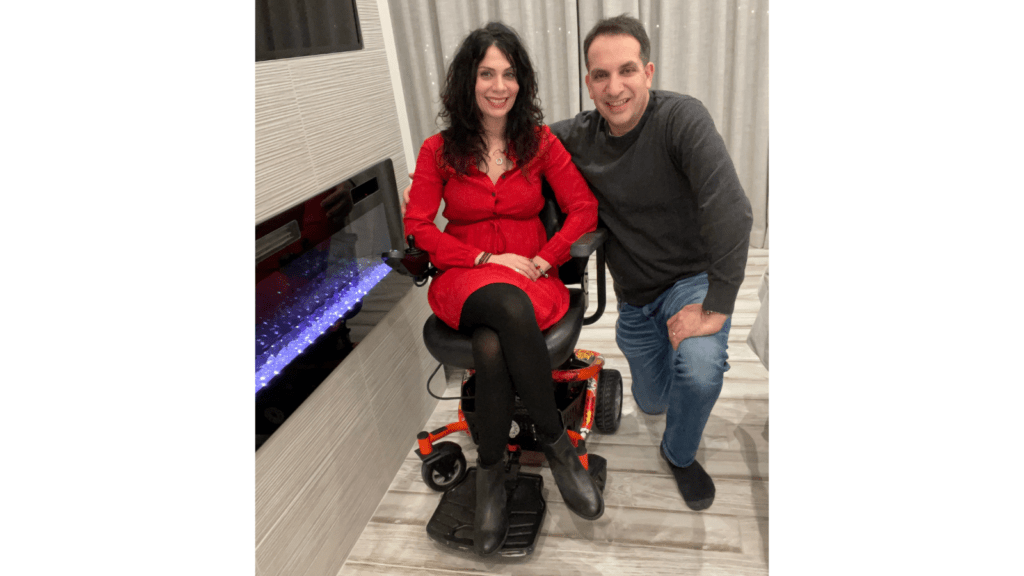 I grew up with a single mom and felt an abundance of love and affection from her, always. She had a larger than life personality with a genuine "joie de vivre" spirit. She was fun and kind hearted and the best mom in my eyes.
My fondest memories of her are mingled with the scent of fresh cut flowers and intimate celebrations of life and love. Every holiday was celebrated and every occasion was special, little and big.
Valentine's Day was no different and a wonderful meal, chocolate, flowers and affection were always involved. We'd purchase these cute little Valentine's Day die-cut cards that I would love to take apart, fill out and distribute to my classmates. Happy days!
So, for me, Valentine's Day has always been a fun day not only related to celebrating with a romantic partner (which I'm definitely all for) but also an opportunity to celebrate love and express it to the ones around me. I never felt "alone" on Valentine's Day, even when I was single. As I grew older I kept up with festivities and similar traditions my mom did with my family and children right down to the now vintage die-cut cards!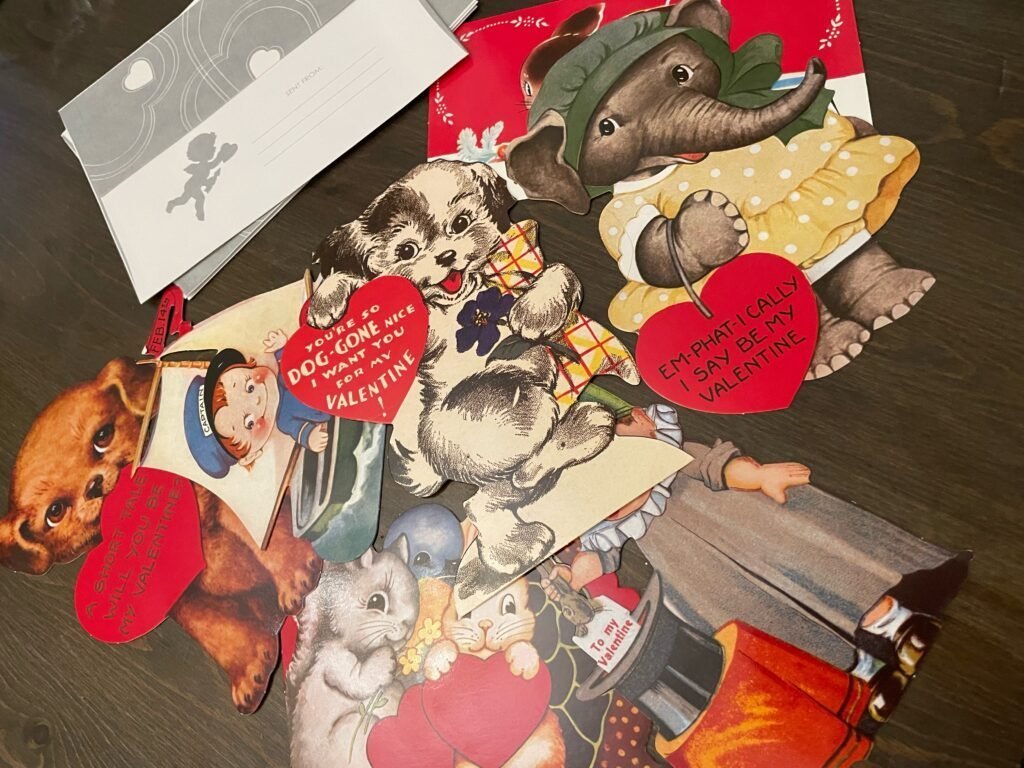 This Valentine's Day
Fast forward to present day and Valentine's Day is right around the corner. There's a pandemic going on, there are city restrictions and we are in the dead of winter here where I live. Still no excuse not to take the opportunity to have some scheduled fun!
Here are some Valentine's Day gift ideas if you would like to treat someone you love or yourself to some well-deserved self-love. These are coming from my perspective, which is disabled with mobility restrictions and a married mom of three kids.
I'm all about flowers, chocolate, massages, etc. but note, I think the most important part of a gift is giving thought to what to the person really likes, so logically, these are only examples of what I like, and you wouldn't get flowers or chocolate or a massage for someone who wouldn't particularly like those things!
The Simple Classic Gift: Bouquet of Flowers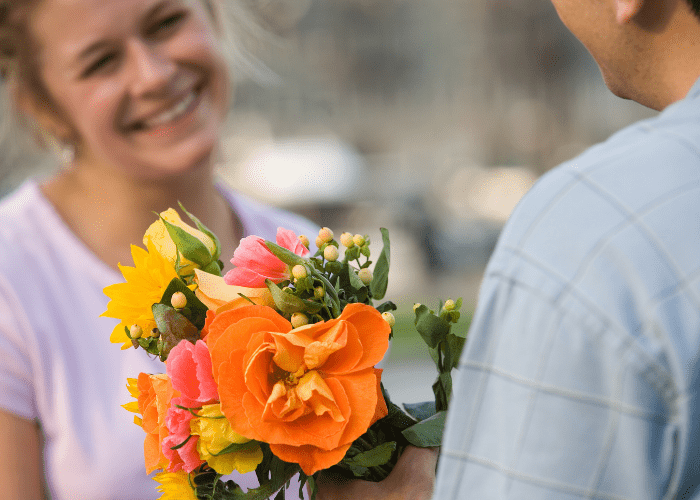 Flowers are delightful majestic gifts from nature and I absolutely love them! They are beautiful, fragrant and easy to find and select from. They bring a presence to the room, livening and brightening it up. They put a smile on people's faces and liven their hearts. They symbolize beauty, life, fragility and love.
The popular dozen roses purchase or lavish arrangements tend to be expensive around Valentine's Day but in my opinion, even a single rose, a simple bouquet from the local market or a cute little potted plant is just as beautiful and meaningful.   
A Twist on Valentine's Day Dessert
"All you need is love, but a little chocolate now and then doesn't hurt." – Charles M. Schulz
Enough said! I think everyone has a guilty pleasure treat and Valentine's Day is a perfect day for an excuse to indulge a little.
Take the time to learn the preferences of the person and the gift will be even more meaningful and exciting for them to receive, especially if it's something they really love to eat.
For example, chocolate and other dessert treats are definitely my guilty pleasure, but because I have food restrictions I prefer dark chocolate and dairy and gluten-free desserts.
This year I ordered custom heart-shaped apricot and thumbprint cookies for my family because I know they love them. I can't wait for them to arrive! It will be a treat for all of us.
Love Notes
There's something about a handwritten note of affection that just warms my heart.
A letter, a sweet, funny or beautiful card, the card from a flower arrangement, a little note, even a surprise post-it in someone's lunch box (I do this all the time), these are little but impactful ways you can show someone that you love them and are thinking about them. 
Massage Gift for Valentine's Day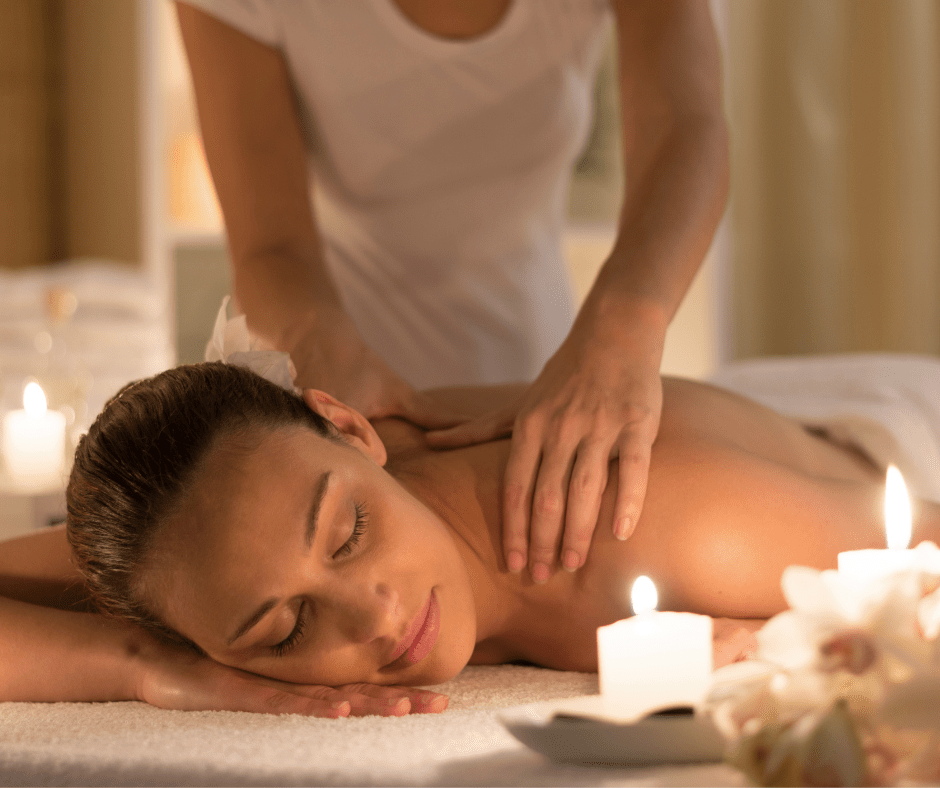 A gift certificate or booking for a professional massage is an excellent gift in my book! I can have a massage every day of the week and enjoy every single one! Especially having Multiple Sclerosis and spasticity issues, massages feel good and are super beneficial for me. I have always enjoyed them, even before being diagnosed.
Things to consider for mobility impaired recipients:
Accessibility
I've had some very bad massage experiences when it comes to accessibility where the location was very difficult to get to or was not wheelchair accessible at all. The whole point of a massage is to relax and feel good and if just getting there is frustrating and a big accommodation or commotion is involved in just getting you to the room, it really takes away from the experience. 
Make sure the place is very wheelchair friendly before selecting it. You want the person to feel pampered, not frustrated.

Make sure the beds lower for an easy transfer so the person can undress and feel comfortable transferring safely on their own.

Many massage therapists perform home visits which can be very ideal if a person prefers the comfort and convenience of their own home, especially during the pandemic
Massage Therapist
Choose an experienced and professional therapist! I've had some bad experiences where the entire session became about receiving unsolicited medical advice or questions about my condition or hearing about other people's illnesses. There's a time and place for everything and for me, a massage bed is to relax and get lost in the massage. That's it! Especially as a Valentine's Day gift.
Types of Massages
Couples massages are fun and romantic and it's easier and more comfortable to have your partner with you in the room as you undress and transfer.

If a full body massage with undressing and transferring wouldn't be desired there are other types of massage that are amazing and more easily accommodated like, for example, reflexology (which is all about your feet), neck and shoulder massages and head massages.
Spa Day
I love a good spa day and have enjoyed the spa with my husband, with my girlfriends or with my daughter. In fact, I have a wonderful spa day with my daughter planned for this Valentine's Day weekend and we can't wait! It's a wonderful, loving, pampering and relaxing experience to share with someone or to gift someone (or yourself).
There are many spas and combinations of treatment option packages to choose from that include things like body treatments, thermotherapy (hot/cold baths), massages, facials, manicures, pedicures, hair treatments, etc.
Same as with going for a massage, accessibility is a huge factor so make sure the place is disability friendly, especially spas with outdoor jacuzzis and pools that involve changing rooms and facilities.
Many qualified estheticians and hairdressers do home visits, which is an easier and more comfortable option as well. I have amazing professionals who come to my home for my hair, nails, massages and facials and it's such a huge convenience especially during the cold winter months where going out with my wheelchair is much more difficult
Valentine's Day Dinner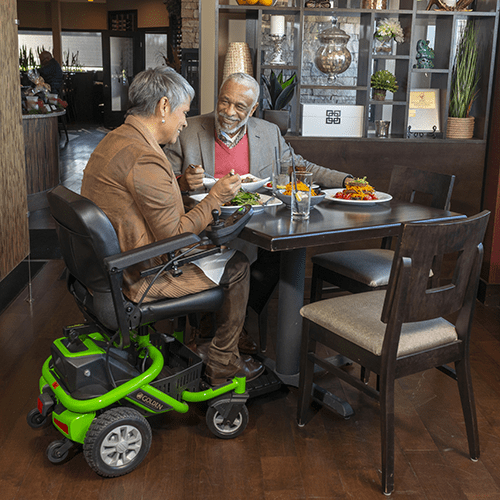 Eating out is wonderful for Valentine's Day and I definitely appreciate date nights out at a delicious restaurant.
If you are planning a night out and want it to be special, consider what the other person actually enjoys eating and what time and location is best for them.
For example, because I carry a chronic illness, I get more easily tired and late nights out are hard on my body and I tend to really pay for it the next day.  For that reason I enjoy eating dinner out very early in the evening, like around 5 p.m., so I can feel my best and enjoy it but still make it home early enough to rest and feel my best the next day.
Make sure the restaurant is really wheelchair accommodating and that doesn't mean just having a ramp to get in; I've been to restaurants where the tables are so close together that we actually had to have people get up from their meals to move their chairs so that I can pass through and get to my table and then again, back and forth, to the restroom. Not the best feeling!
Choose a restaurant that has easy parking and a nice and acceptable handicap washroom (I've seen some real fails in this area); it really makes all the difference in the experience.
Plan a Fun Activity
Planning something special for your partner or someone you love is fun and exciting and a good way to break up the monotony and gloominess of a long winter (depending on where you live), especially by mid-February when a lot of us are fed up.
I like to plan fun activities with my husband and kids to liven things up. For example, we've taken painting classes together, visited ceramics cafés and escape rooms, gone to see movies together, etc.
This year my kids and I are baking cookies on Valentine's Day weekend. Also, keeping up with my mom's tradition, we will enjoy a special Valentine's dinner at home ordering in our favorite meals and desserts and enjoying them as a family.
Weekend Getaway
You had me at hotel! I don't know any woman who would say no to a weekend getaway (or any-day-of-the-week getaway) where she can relax and recharge. Especially a mom!
I've actually enjoyed little getaways at a hotel in the same city I live in just to get away from my regular routine and the regular stresses of life we all have. There's something about crisp sheets, sleeping in, a beautiful view and room service that just makes me feel happy!
Depending on the person's interests, book at a place they would love or that you can enjoy together if you are joining them. Maybe something romantic in nature and/or like a cottage in the woods, at a hotel with a spa as an added bonus, a bed and breakfast, or a hotel in the heart of a city.
Similar to my other suggestions, make sure the place is wheelchair friendly in a tasteful and elegant way. I've been to high-end hotels where handicap accessible rooms and bathrooms were downright ugly and the design was more of an afterthought than anything else.
Personal Gifts
Gifts are always welcome in my book and Valentine's Day is no exception!
Choose a gift that is personal to the person and shows you have given thought to what they actually like, need or are interested in.
For example, intimate things like their favorite perfume or one that you like very much and think suits them. Jewelry is also a nice idea and doesn't necessarily have to be expensive. Body lotions/soaps/spays is another nice idea.  
For myself, I'm very much into working out so workout clothes are a great personal gift that I would love, appreciate and use often.
If someone you love is mobility challenged, consider gifting them something that would make their life easier like perhaps a nice power lift recliner or a stylish mobility device like a scooter or power wheelchair. That's definitely a personal gift coming from the heart and can really make a huge difference in someone's everyday life.
Celebrate the Ones You Love 
"The best and most beautiful things in the world cannot be seen or even touched. They must be felt with the heart." – Helen Keller
More than what you give them or even say to them, people will always remember how you made them feel. Why not find a way to make someone feel special this Valentine's day?
Life is short and things happen. We lose the people we love for different reasons, some because of choices that are made, others because life gives us no choice. The end result is the loss.
For that reason, every day is a reason to celebrate life and the people we love who are by our side and Valentine's Day is no different.
Buy the flowers, write the note, eat the chocolate! Appreciate the love in your life in whatever form it is–your partner, your family, your friends, your pet, or yourself. Don't hold back on expressing love, kindness and appreciation when you can. These are the moments that life is really about.