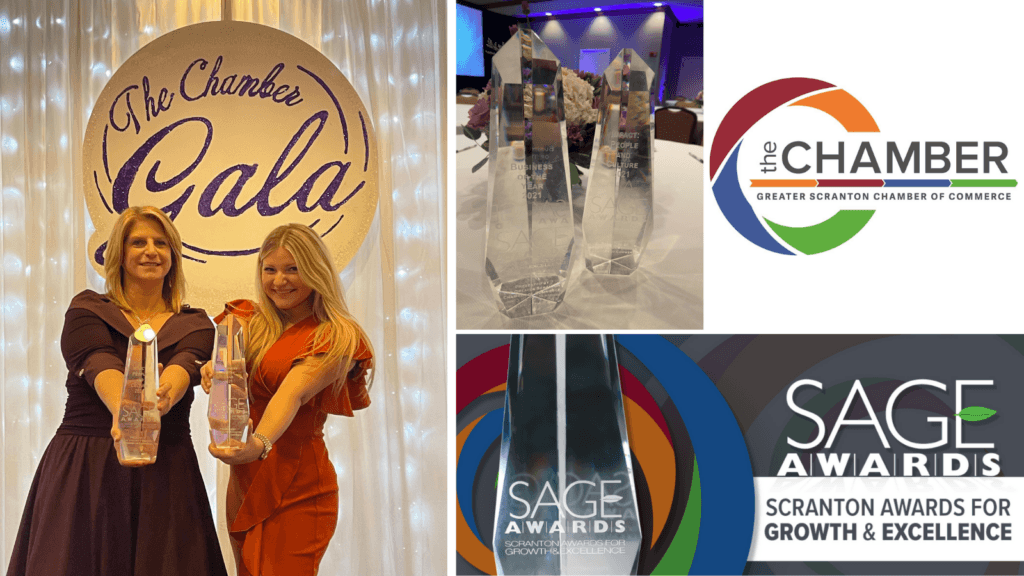 Old Forge, PA – Golden Technologies was recently honored by The Greater Scranton Chamber of Commerce at a gala celebrating the SAGE Awards, Scranton Awards for Growth and Excellence, winning Business of the Year and the IMPACT Award for People & Culture. The SAGE Awards recognize the outstanding efforts, talent, creativity, and innovation in Northeastern Pennsylvania.
"Over 20 years ago, we remember being awarded Small Business of the Year and how much that means to us. To achieve this huge milestone years later and be honored with the 2021 Business of the Year award is truly an honor and we are so proud," said President & CEO Rich Golden. "Something that we're even more proud of is receiving the IMPACT Award for People & Culture. This award recognizes a business that has gone above and beyond in responding to the COVID-19 crisis in terms of creativity, adaptation, and perseverance to ensure the well-being of its team members. We are very proud of these awards and recognition by our business community leaders," he added.
In response to immediate needs during the COVID-19 pandemic for their power lift recliners, scooters, and power wheelchairs, Golden stayed open as an essential business and demonstrated growth and operational success by opening a new 170,000 square foot distribution center equipped with state-of-the-art warehousing equipment. In addition, Golden increased minimum wages to retain and attract more workers, opened new office space, and utilized training programs to improve efficiency. Golden is also proud to give back to the Scranton community such as donating luxury power lift recliners to The Arc of Northeastern Pennsylvania to provide comfort during their day programs and utilizing sewing equipment to manufacture masks for local hospitals and the community.
In addition to recognizing resourcefulness and innovation in local businesses and organizations employed due to the challenges of COVID-19, the IMPACT Award for People & Culture honors those that demonstrated an adaptation of safe work environments, restructuring, retention of employees, as well as compensation, flexibility, and remote work. Employee events like Thanksgiving feasts, Christmas parties for children of employees, holiday cookouts, and special recognition days are part of their company culture to show gratitude towards one another and to be thankful for the meaningful work they do.
"Under unprecedented conditions, each team member in production and traffic, customer and technical service, accounting and sales showed up day after day and did everything they could to continue to provide customers with the power lift recliners and mobility products they so desperately needed. I am very proud of everyone, and congratulations on this special achievement," said Golden.
Visit www.goldentech.com for more information.
###
About Golden Technologies
Golden Technologies, a family-owned and operated company, is the world's leading manufacturer of luxurious lift and recline chairs. We take great satisfaction in the superb craftsmanship and lasting durability of our growing lines of Power Lift Chairs and Power Wheelchairs, and Scooters. Golden's products set the pace in our industry for performance, convenience, and comfort, because they all begin with superior materials and creative designs. We help provide our customers with a sense of independence, mobility, freedom, accomplishment, and belonging.