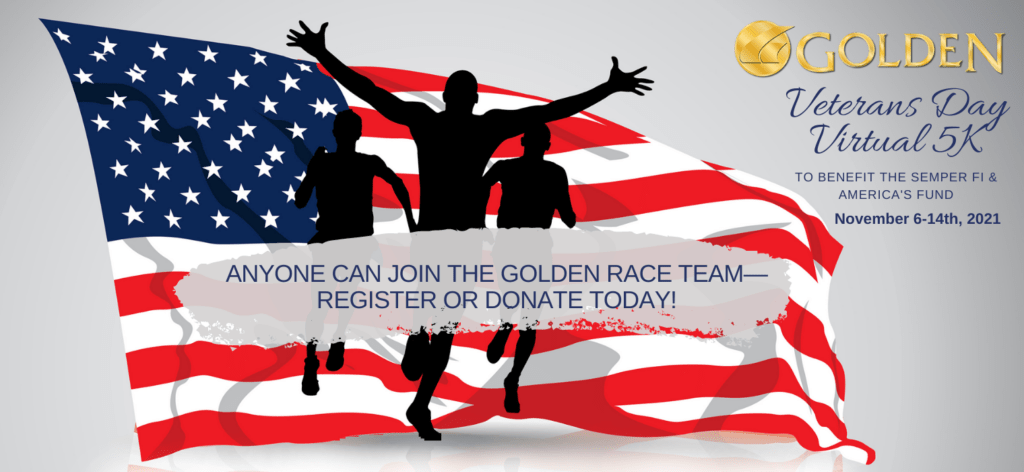 Are you looking for a way to help our veterans in need this Veterans Day? Golden Technologies is honored to hold our 2nd annual Veterans Day Virtual 5K November 6th-14th with our team members, friends, and family nationwide to help benefit an amazing cause. Sign up for and/or donate to Golden's Veterans Day Virtual 5K to benefit The Semper Fi & America's Fund for combat wounded, ill, and injured veterans! Registration is FREE and can be completed online: give.thefund.org/golden. This virtual race is based on the honor system and completing a 5K is not required (we just thought it sounded good!). Feel free to scoot/walk/run/bike or complete any type of physical activity of your choosing from November 6th-14th and please send us your photos honoring the men and women who have sacrificed so much for our great nation!
The Semper Fi & America's Fund was given an exceptional rating by Charity Navigator and was highly recommended by Military.com. This charity was created in 2003 by a dedicated group of Marine spouses. Just back from Operation Iraqi Freedom, the first wave of wounded Marines and Sailors landed at Camp Pendleton, California. The group began to organize welcome home activities at the hospital. They arranged travel for family members who couldn't afford airfare. They provided a specialized van for a Marine who is now a quadriplegic through the generosity of donors like retired Marine Colonel Jack Kelly. The group assembled and distributed care bags filled with toiletries and phone cards. And the charity was born. 
Register by Nov. 14th, 2021 to join the virtual race. TO REGISTER OR DONATE, visit give.thefund.org/golden and select JOIN TEAM OR DONATE. Please share our team's page to ask for donations for injured & ill veterans. 
And don't forget to post your photos to #GoldenVetDay5K, Facebook message them to @GoldenTechnologies or email them to marketing@goldentech.com.