Written By: Aline Browning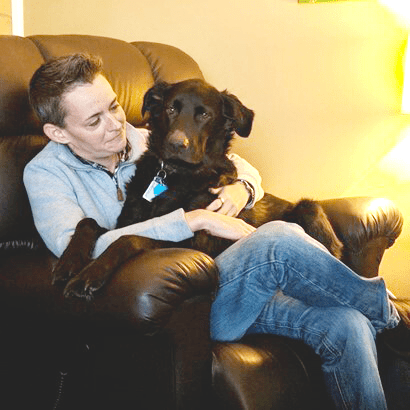 Dealing with Daily Trauma
           Life can push us through some very heavy doors that lead us to places that we never imagined we would find ourselves. To many of us who live day-in and day-out with trauma, it feels like an actual place that we long to come back from. When we survive the initial trauma, we aren't just changed in our souls and minds, we can be changed in our bodies, too.
What Causes Post Traumatic Stress Disorder?
Post Traumatic Stress Disorder is a psychological disorder that can be caused by a multitude of trauma ranging from combat to natural disasters, to abuse, violence, and severe grief. There are countless ways the mind can be traumatized. In recent years, some have become more comfortable discussing the psychological challenges associated with the disorder. We feel a bit more empowered to discuss our traumas and triggers and talk about the routines we keep that help us to avoid episodes. We talk more freely about the anger we experience when those routines fail, and we become triggered. We are even starting to recognize the contagious nature of our hypervigilant protocols as we pass them on to our spouses and children.
An area that is seldom discussed are the physiological disorders that are caused by PTSD. Many of us aren't aware of what PTSD is capable of doing to our bodies. I only began to understand the connection that PTSD has with our physiological health as I was diagnosed with moderate arthritis in my neck and hands about a year ago, at age 40.
How Too Much Cortisol Affects Our Body
Cortisol is known as the "Fight or Flight" hormone. During an emergency such as an accident or violent attack, the body produces this hormone which is meant to protect us. This hormone dulls our sense of pain, increases the body's metabolism of glucose so we can draw strength, regulates blood pressure, and can reduce inflammation. The problem with Cortisol is that high levels of it will actually attack the body. A person living with PTSD is continuously producing this hormone.
Research has shown that over time Cortisol breaks down the bones leading to Osteoporosis and Osteoarthritis. In some cases, inflammation can become so severe that it can lead to Cushing's syndrome. PTSD is also a high risk factor for Diabetes Type II, hypertension, memory loss, obesity, and a range of other conditions.
Too much Cortisol also inhibits the flow of oxygenated blood to the heart. This is significant because it is inflammation that inhibits blood-flow and poor circulation leads to a shedding of dead blood cells in the body, this shedding produces uric acid which also promotes inflammation. It is very easy for someone living with PTSD to be caught up in a vicious cycle of inflammation.
You Can Begin to Lower Your Cortisol Right Now
Researchers conducted a study on mothers of chronically ill children, as their stress levels were expected to be higher, and found that, "The hypothesis that mothers of chronically ill children with PTSD would exhibit significantly higher salivary cortisol levels than mothers without PTSD while waiting for their child's medical appointment was supported. These findings are consistent with previous reports of higher cortisol levels during laboratory-induced, event-related stressors among those with PTSD." Stoppelbein, (2012)
Lower your Cortisol levels by following some simple recommendations:
 

Avoid Stress

: Find ways to relax including lounging, listening to music, engaging in meditation, or even try journaling. A

Golden power lift recliner

can serve as a comfortable centerpiece of a soothing environment and promote relaxation and solace in your life, which can help lower cortisol levels.

 

Get your feet up

: Gravity can cause fluids to build up in your lower extremities, which could exacerbate inflammation. Find ways to elevate your feet just above your heart for at least 20 minutes a day. One of the benefits of

Golden lift chairs

with patented positioning technology is that they are able to achieve the Trendelenburg position, raising feet above the heart, which can improve circulation and lower the buildup of blood cell waste in the body caused by cortisol.

 

Watch your sugar intake

: Obesity and Diabetes Type II are not risk factors to take lightly so use good judgement and consume more natural sugars such as fruit.

 

Drink more water

: Dehydration can cause inflammation and joint pain. It can also bring on attacks of Gout for some living with arthritis pain because it causes uric acid to build up in the lower extremities. Drinking water will improve circulation and brain function.

 

Contemplate upcoming events

: This is a difficult one for me to master, you really have to analyze what environments you are going to be exposed to and consider where you are the entire time. I struggle with waterparks, amusement parks, or anywhere there is a lot of yelling. I'm familiar with the anger and embarrassment of being triggered unexpectedly in public, like from the sound of a bang. Try your best to practice mindfulness and remind yourself of some of the stimulation you might be exposed to.

 

Give yourself a break

: Something happened to you that was almost more than you could bear, but you did bear it and made it out. Don't be hard on yourself when you are struggling with trauma. You made it this far and have further to go.
As a professional who has struggled with Complex PTSD for 22 years, I can promise you that you can still live a normal and meaningful life and reduce the symptoms associated with PTSD. With a proactive approach and full participation on your part, it can be a beautiful life.