Written By: Anna Giannakouros

5 Ways To Have More Energy & Better Brain Function, Plus Recipes!
Having Multiple Sclerosis and living with this health issue, I've become very much in tune with my body in relation to food and alcohol, because I often feel the effects of what I consume right away in relation to my MS symptoms, as well as other symptoms. There are so many opinions out there about what's the best eating regime. These opinions can be backed with a lot of conviction and analysis and it can get confusing trying to figure it all out and know what is best for you.
I'm sure we've all heard opinions like these before:
     

Breakfast is the most important meal of the day

     

Eat 3 meals a day and 2 snacks

     

Don't snack in-between meals

     

Carbs or fat are good/bad

     

Red meat is good/bad

     

Vegetarianism or vegan is good/bad

     

Gluten or dairy is good/bad

     

Soy or peanuts are good/bad

     

Eggs are good/bad

     

Corn is good/bad

     

Nightshades are good/bad

     

Food intolerances are real/a myth

     

Eat everything in moderation

     

Counting nutritional information is good/bad

     

Etc…
It can all get a bit overwhelming. As for me, I don't believe that there is an ideal "one fits all" eating regime. We all have different bodies, cultures, and lifestyles, and we all stay motivated in different ways. What works for one person wonderfully may not work for someone else at all. Also, depending on your health and body type, you may or may not have the luxury of indulging in certain foods without facing consequences. That's why it's important to experiment and find what works specifically for you. You know your body better than anyone.
1. Elimination Diet
Focusing on how you physically feel is a good place to start when trying to determine what eating regime best suits you. Pay attention to how you feel when you are at your best and make a note of what foods you ate around that period of time and what eating pattern you followed.
Examples of good indicators of this are:
     

Good gut function and digestion

     

Controlled body weight

     

More energy

     

More alert and better brain power

     

Good sleep

     

Stable mood

     

Good mental health
Similarly, pay attention to what foods you ate or an eating pattern you followed when you weren't feeling well. That can be more difficult to do if you are consuming a wide range of different foods but for starters you can look for indicators like this in your body and then attempt to make a correlation with the food pattern or regime you were on.
     

Weight gain or loss

     

Low Energy

     

Bloating

     

Cramping

     

Heartburn

     

Digestive issues like constipation or diarrhea

     

Gas

     

Joint pain

     

Acne and other skin problems

     

Mood swings

     

Agitation

     

Bad sleep
If you suspect a particular food or type of food doesn't agree with you, try eliminating it from your diet for a month and see if you notice an alleviation of symptoms. You may even notice a difference after a couple of days. Examples of good food categories to start with are sugar, processed foods, grains, gluten, dairy, and different types of meat.
At a later point, re-introduce the food and investigate if negative symptoms arise. Depending on what you find you may want to look into making more elimination changes or get more informed about what the best way is to re-introduce these foods into your system without them having a negative impact on you any longer.
My Eating Regime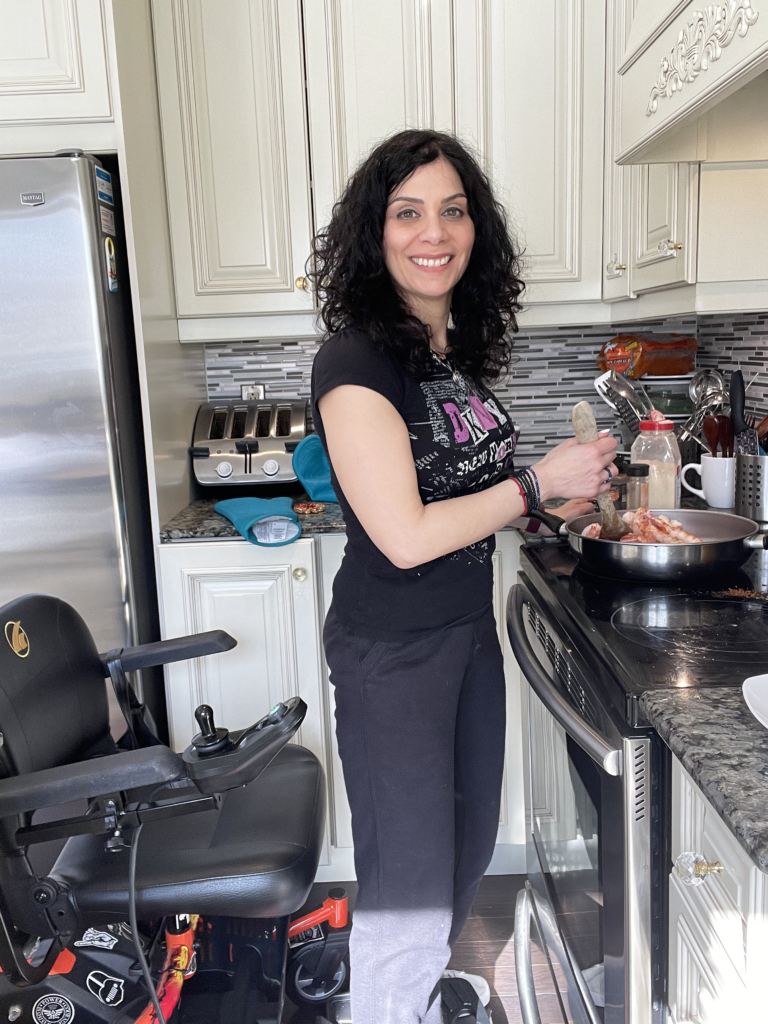 In my case, having an autoimmune disease, the consequences are grave when I eat foods that I do not tolerate well. Here are some examples of the increase in negative symptoms I experience when I go off my eating regime and eat foods that I don't tolerate.
     

Migraines

     

Fatigue

     

Gait issues

     

Nerve pain

     

Constipation

     

Agitation

     

Mood swings

     

Puffy eyes

     

Swelling

     

Bloating

     

Rashes

     

Hives
2. Paleo
Over the years, I have found a mix of what works for me to keep me feeling my best and my MS symptoms manageable. I follow a Paleolithic diet which is grain, dairy and gluten free because those categories of food increase inflammation in my body.  A Paleolithic diet is based on historic hunter/gatherer whole foods like meat, fish and seafood, vegetables, berries, and nuts.
3. Keto
I also follow a ketosis diet. A ketosis diet is a low-carbohydrate, high-fat diet that causes your body to burn fat for energy purposes as opposed to carbohydrates. This process puts your body into a metabolic state of ketosis. When this happens, your body turns fat into ketones in the liver which provides energy to the brain and provides other health benefits like cell regeneration, nervous system support and even a slow down in the aging process.
You can measure if you are in ketosis by using breath tests, urine testing strips or blood monitor devices. In my experience, the most reliable way to measure is using a blood monitor device. I use a "Keto Mojo" device that I highly recommend.
Having MS, I suffer from chronic fatigue and it is a daily challenge. Without even testing my ketone levels I know when I am in ketosis because I feel an increase in energy and see an improvement of gait and brain alertness. It makes a huge difference in managing my MS symptoms.
There are different types of ketosis regimes and combinations of macros one can follow. Macros are daily carbohydrate, protein and fat allocations. I typically maintain an allocation of 15% carbohydrates, 18% protein, 67% fat and follow a Clean Keto Regime, which means I maintain my paleo food restrictions (ex. dairy, gluten and grain free) and concentrate on eating nutrient based foods and healthy fats.
Following Clean Keto, I supply my body with minerals and vitamins to help combat my MS and enjoy health benefits in general like good energy, digestion, mood, brain function and skin and weight.
4. Intermittent Fasting
I also practice intermittent fasting, which helps ensure I remain in ketosis on a daily basis. I feel an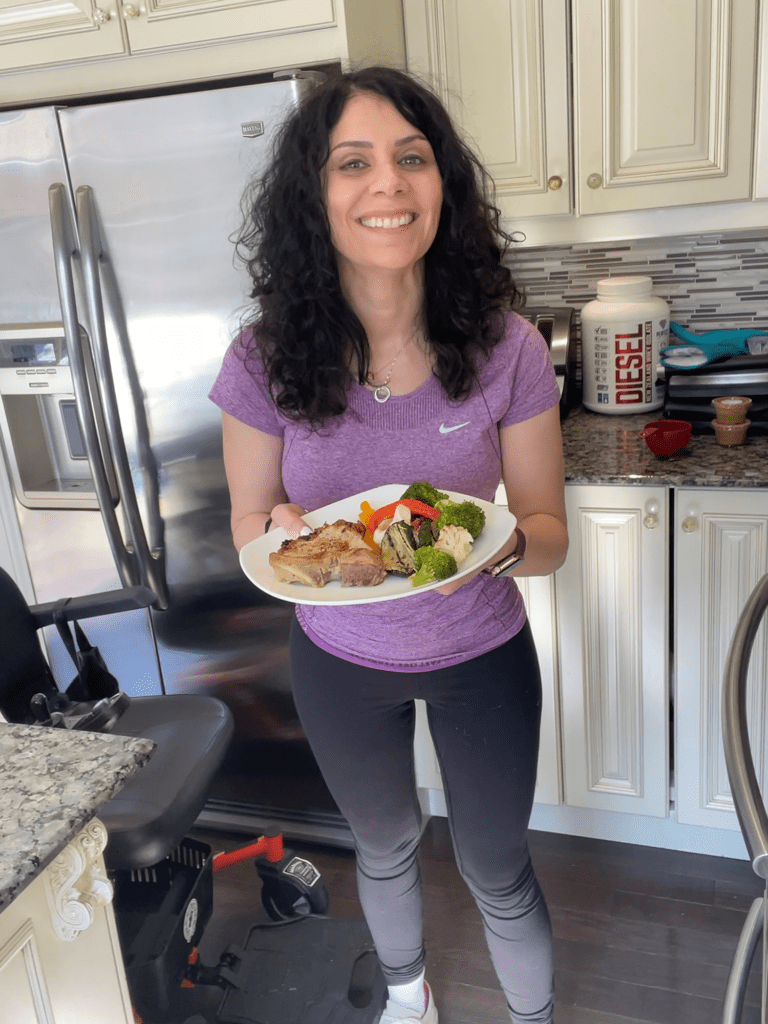 increase in energy during my fasts, as well as better brain function.
There are different fasting schedules that can be followed. After experimenting with different fasting times I've determined what works best for me is eating between 11 a.m. and 7 p.m. every day and fasting for the remaining time. This is called the 16:8 method; fasting every day for 16 hours and enjoying an 8-hour eating window.
5. Mediterranean Diet
Being raised in Greek origin, the foods that I tend to gravitate towards have a Mediterranean influence: I enjoy eating a lot of plant-based nutrient-dense foods like dandelion greens and plenty of vegetables. I consume a lot of olive oil for fat and enjoy healthy protein sources like fish and seafood.
Recipes
I find that eating healthy and whole foods requires a lot of homemade cooking. Luckily, I do enjoy cooking, but it can get challenging dealing with a chronic illness and keeping up with meal planning and other things. Investing in my Envy Power Wheelchair has really allowed me to conserve energy and do more of the things I love, which includes cooking.
Here are a few of my favorite easy and quick recipes that are delicious, as well as Paleo and Keto friendly. I hope you enjoy them:
Cajun Shrimp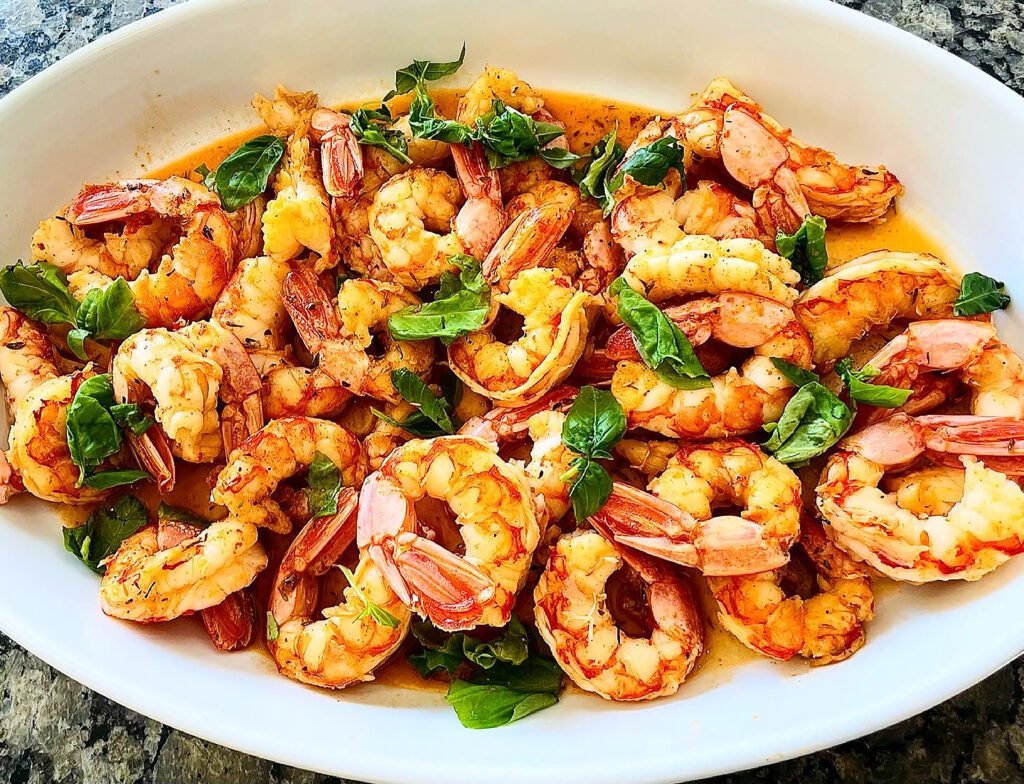 In this recipe I use 600 grams of large, frozen, cooked, cleaned and deveined Wild Argentinian Shrimp,but you can also use different types of shrimp and if raw simply sauté for 2-4 minutes (until pink) instead of 1-2 minutes as noted in the recipe.
Defrost the shrimp. Heat about 2 heaping TBSP of ghee (clarified butter) in a pan over medium/high heat. Add shrimp to pan and generously sprinkle (about 1 tbsp each) with garlic powder and Cajun Spice Mix (see below for spice mix recipe). Sauté for 1 to 2 minutes. Plate and top with fresh basil or other fresh herbs on hand.
Octopus Salad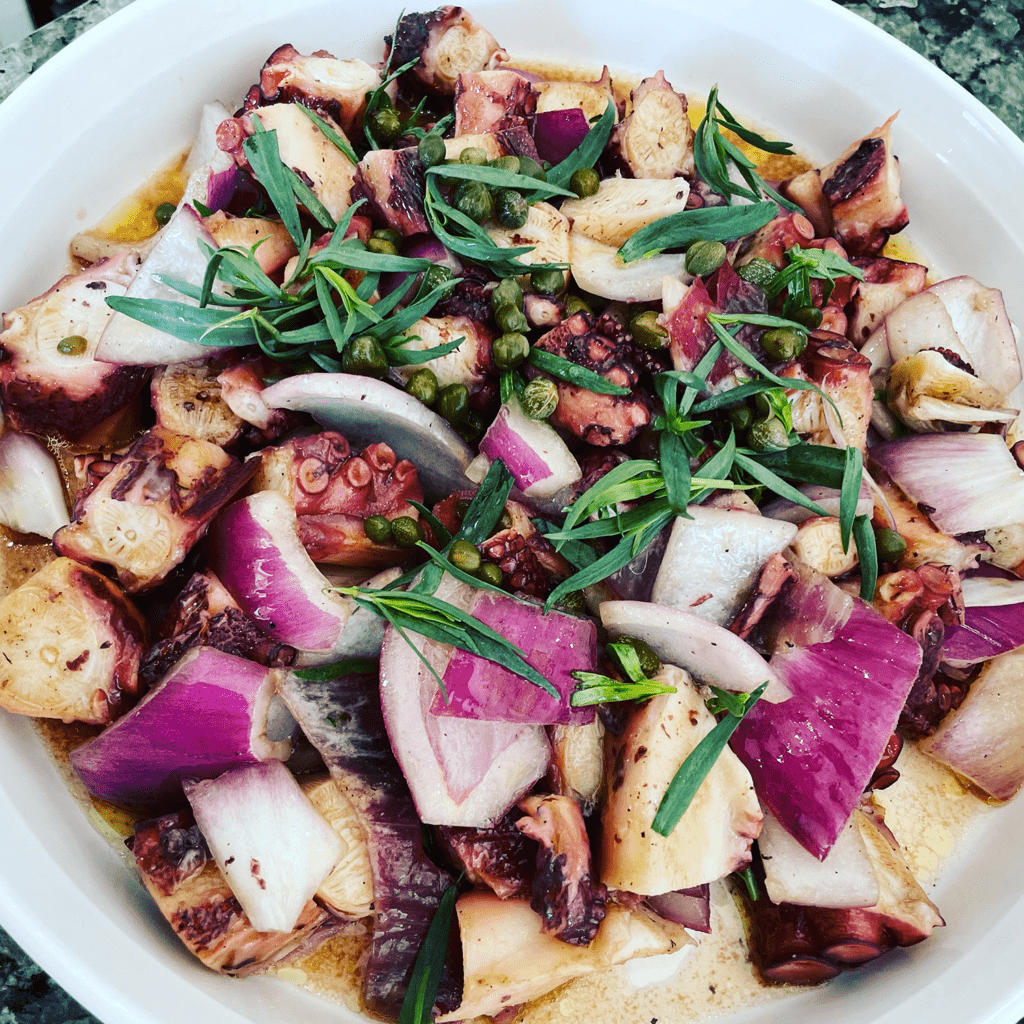 In this recipe, I use 600 grams of frozen, cooked and cleaned Octopus Legs. 
Defrost the octopus according to package instructions. Rinse in water. Cut into bite size pieces and add to a bowl. Chop 1 medium red onion and add to the bowl. Add about 1 TBSP each of capers, fresh lemon juice, and balsamic vinegar. Generously drizzle with olive oil (about 3 TBSP) and season with sea salt and pepper according to taste. Top with fresh tarragon leaves or other fresh herbs on hand.
Berry Rhubarb Tart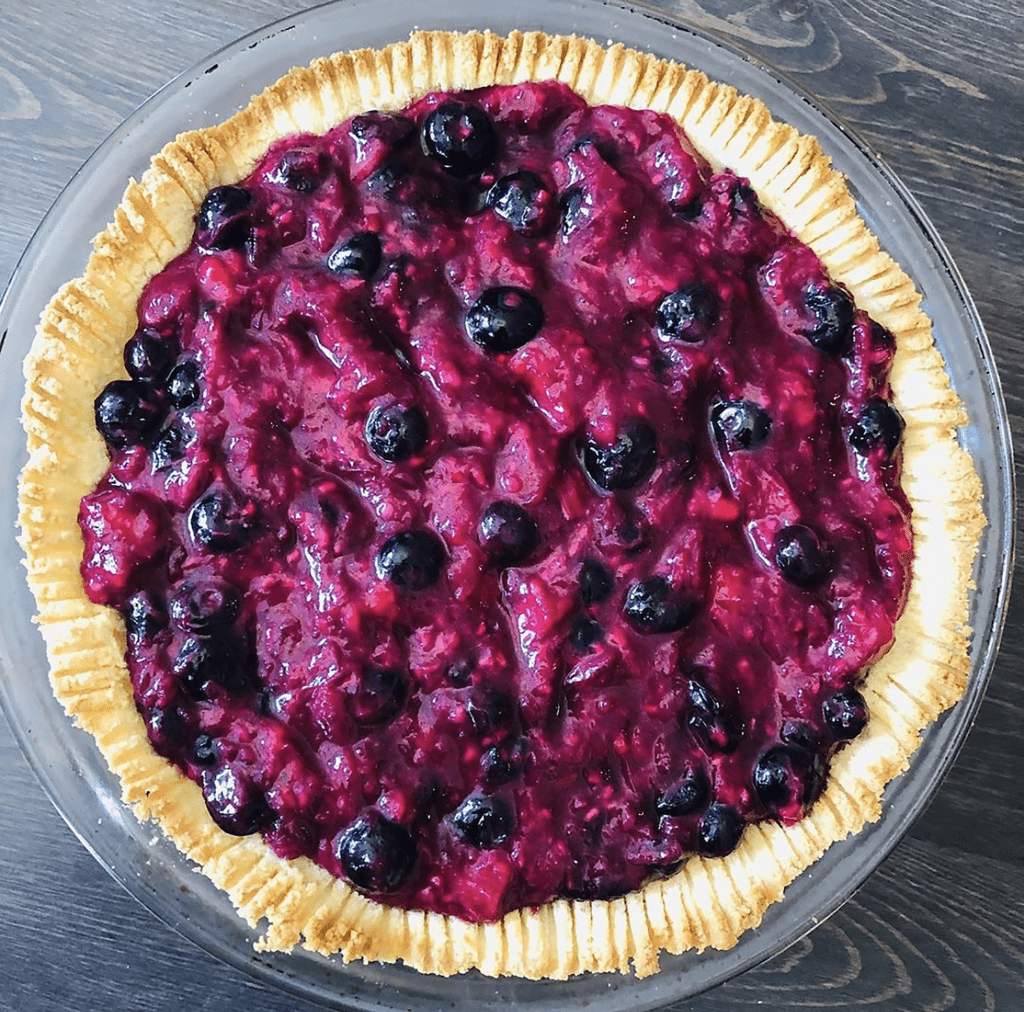 This is a delicious and guilt-free dessert.
For the filling: wash and chop 2 cups of rhubarb. Sauté the rhubarb in a pan, on high heat, with a tbsp of ghee, for about 2 minutes. Add 1 cup each of washed blueberries and raspberries. Sauté for 4-6 minutes until the berries have broken down and the mixture has blended together. Close heat and mix in a TBSP of arrowroot powder (for thickness) and 3 packs of Stevia or another natural sweetener of your choice.
For the crust: manually mix 1/2 cup melted ghee and 1 beaten egg to 2 cups almond flour and form a dough ball. Spread out the dough ball, with your hands, across the bottom of a standard pie baking dish. Bake at 375 degrees for 10-15 minutes.
Allow crust to cool. Pour and fill rhubarb/berry mixture into the pie and serve.
Cajun Spice Mix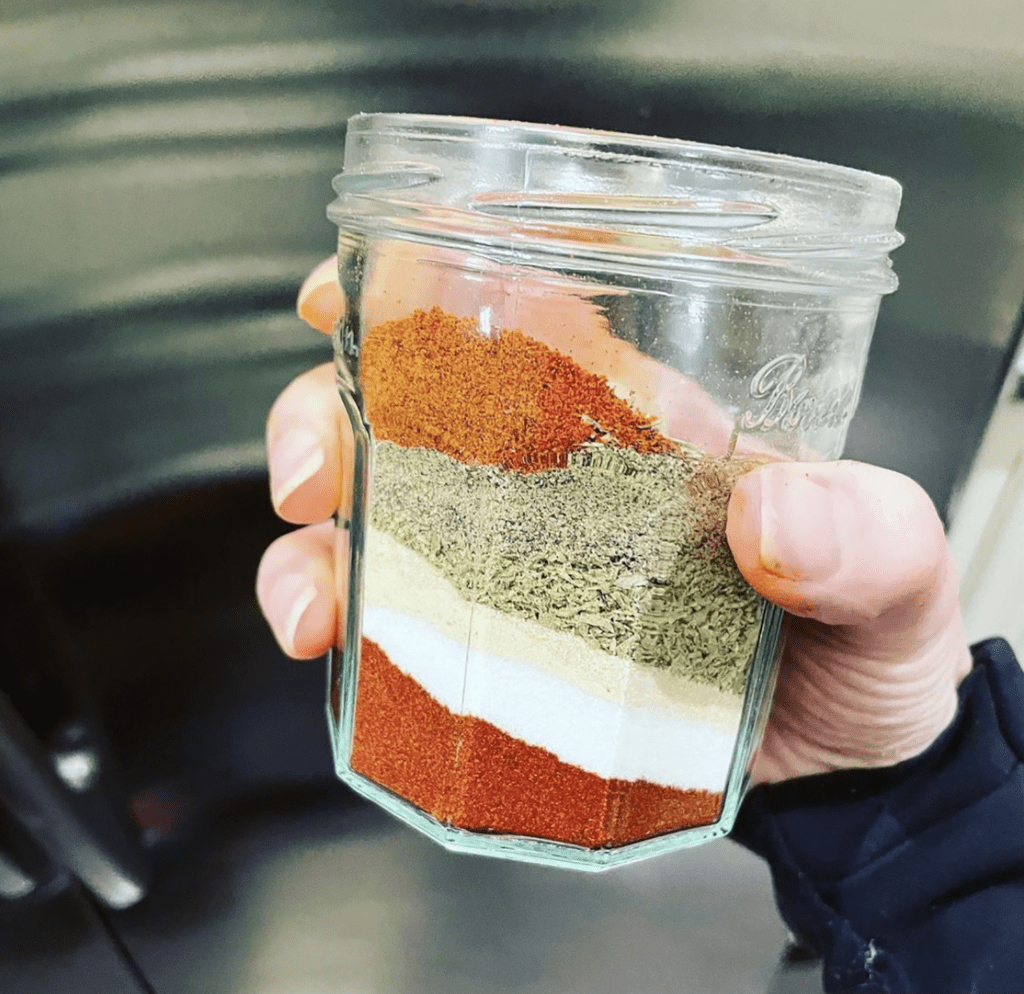 Spices are so healthy. They have anti-inflammation properties, immune-boosting properties, brain health properties, antibacterial properties and a lot more. I try to incorporate a lot of spices in all my meals. This is one of my go-to spice mixes: Cajun Spice Mix: great on meat, fish, rubs, vegetables, sweet potatoes, etc…
3 TBSP paprika; 1.5 TBSP sea salt; 1.5 TBSP garlic powder; 1 TBSP onion powder; 1 TBSP oregano; 2 tsp black pepper; 1 tsp thyme; 1 tsp cayenne pepper; 1 tsp chili powder. Add to a jar and shake all together.
Follow Anna on Instagram @Immakeepstandin for more health and fitness tips and inspiration.