Written By: Anna Giannakouros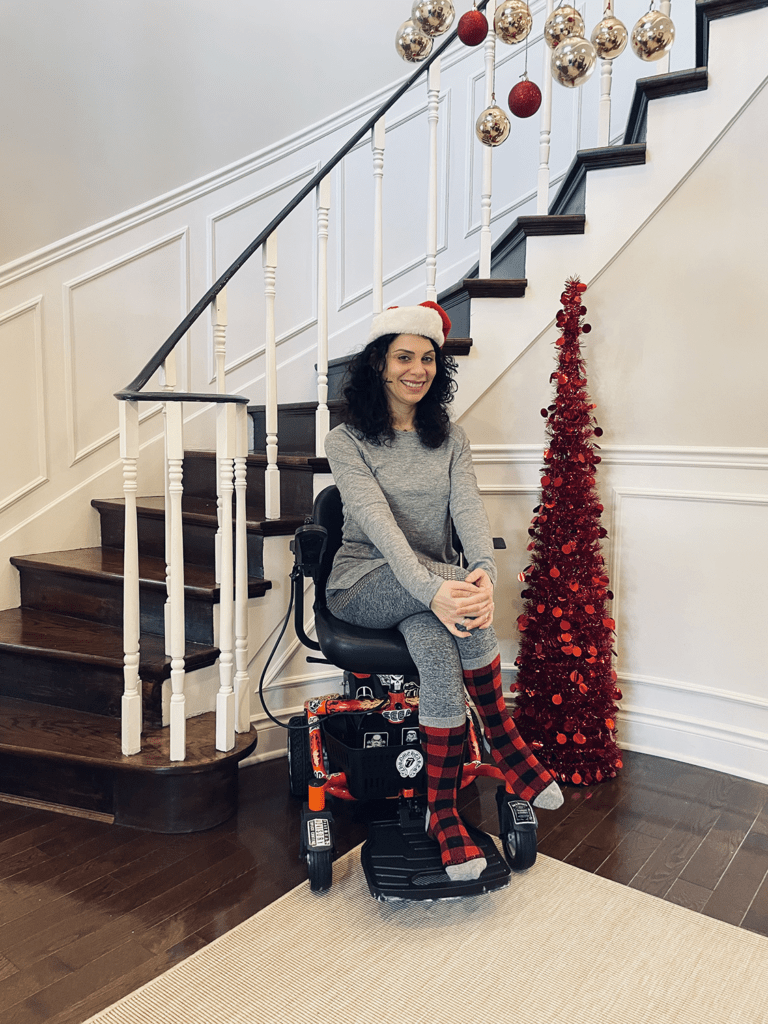 How To Manage Holiday Shopping & Visits During The Pandemic
As the holidays approach, I'm filled with excitement and anticipation for a wonderful holiday season ahead spent with friends and family. Especially after what a year 2020 has been, I think we all deserve it!
Even though some of us are still in a partial lockdown because of Covid-19, I plan on celebrating Christmas with lots of shopping, gifts, drive-bys, and seeing my friends and relatives in a limited way.
While the holiday season is fun, it can also be exhausting, especially for people with a disability or a chronic illness and being a "Spoonie", as I am. A Spoonie is someone who suffers from a chronic illness and has a limited amount of energy to complete tasks or function in a given day. Often, the illness is not apparent to other people and the person looks healthy and able-bodied as I did especially before I started using mobility aids. In reality, the energy struggle is sometimes enormous just to make it through a given day and there's only so much that can be accomplished.
The term "Spoonie" was created by Christine Miserandino, a patient advocate and Lupus sufferer. She explained the term by laying out several spoons on a table where each spoon represented a person's energy reserve for activities performed in a day. Examples could be bathing, getting dressed, making your bed, cooking, eating, washing the dishes, shopping, exercising, going to a doctor appointment, meeting a friend for lunch, going out for supper, staying up late, etc… all typical activities that a regular healthy person accomplishes without much thought and often many times in a day.
However, people with a chronic illness or disability only have a handful of spoons that they can use in a day; maybe even only 1 or 2 spoons on some days. If one pushes themselves too far and goes over their limit, the consequences can be grave and in my case, could lead to a flare-up (exacerbation of MS symptoms) that can last for days or even weeks.
So, every day is a balance between rest and spoons, and we have to choose wisely what limited tasks (or spoons) we will perform (use up) on that given day. As the holidays approach, I'm thinking of all the extra spoons I will need, and it can get overwhelming. These extra spoons can be things like holiday gift shopping, wrapping gifts, drive-bys, cooking, baking, visits, staying up late, meeting people, etc. All of these activities will take their toll unless managed properly.
Here are some tips that I follow to conserve energy during the holidays:
Shopping Online

There's nothing worse than waiting for the last minute to buy your holiday gifts and then scrambling to wrap them while you should be getting ready to go somewhere. I avoid being in that situation by getting my purchases done early so that I have enough time to organize, wrap, and label them gradually without any stress.
For clothing, accessories, and home decor, online shopping is the way to go—it takes a lot less energy than physical shopping and is quicker and more convenient. It's easier to compare prices and search for a variety of products and it can be done from the comfort of your own home, avoiding sales pressure and crowds. That's a huge benefit now with the pandemic going on.
Another way to keep things simple and efficient, is if you find a great gift, buy multiples of it for different people.
Simplify Gift Wrapping
As much as I used to enjoy elaborately wrapping Christmas gifts, I simply don't have the energy for it anymore. Many times, just opening and putting away the boxes received feels like a workout! So what I do is purchase gift bags and tissue paper, drop the gift in a bag, add some tissue paper, tie the bag handles with ribbon, add a label, and I'm done in under a few minutes. I space out wrapping the gifts over different days, so it's not too tiring preparing them all in one day.
Another gift-wrapping option is to have the retailer do it for you. Some sites offer gift wrapping and delivery options which are so helpful and convenient, especially now, during the pandemic, where visits are limited.
Another easy, but thoughtful holiday gift is simply gifting money. What I did for this year is purchase cute mini Christmas boxes equipped with a ribbon that I plan on filling with Hershey Kisses and some cash. So simple and nicely presented—who wouldn't want that as a gift?
Or, if you have a loved one with a disability, consider going in on a more functional, but necessary joint gift with friends and/or family, such as a power lift recliner, mobility scooter, or power wheelchair. It will truly make a difference in their life every day, and they will think of you every time they use it. You can find a local home medical supplier near you at goldentech.com/dealer-locator. 
Drive-by Visits
One thing that I learned during the pandemic and while being in lockdown is that you can still find ways to connect with your loved ones even if it isn't a long event or in close proximity to them. A great way to connect is to simply drive by their homes (meet in the driveway) for a greeting and/or to exchange gifts.
Of course, this isn't the most ideal setting for a holiday exchange, but it is a lot less tiring and shorter than the usual holiday festivities that we are accustomed to and for a Spoonie, it does efficiently and effectively do the job of connecting with loved ones in a less tiring scenario.
What I will do is schedule some drive-bys throughout December to visit people in different areas of the city and this way, the meetings will not all be condensed during the last days of the year when things get to be more hectic.
Pace Yourself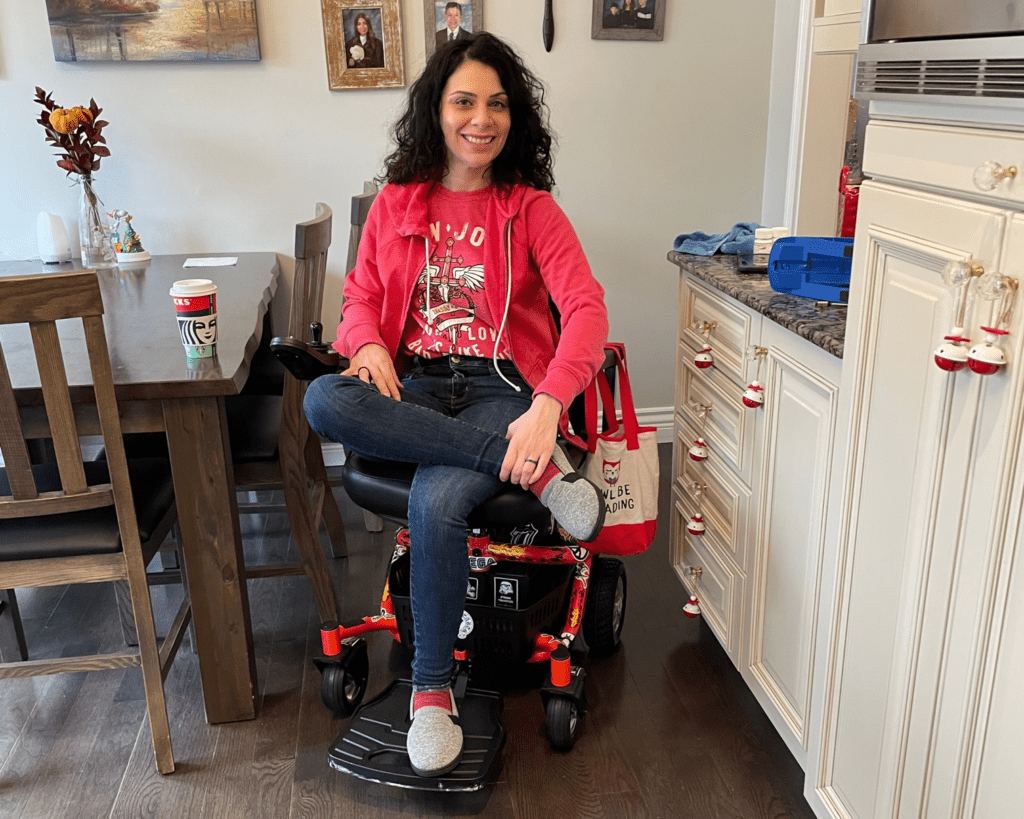 Take breaks in the day and rest between different activities.
Breaks can be as simple as putting your feet up, resting your eyes, breathing exercises, short naps or meditating, and they do wonders for recharging your battery, improving your stamina, and regaining your strength during the day.
They help improve physical & cognitive functions and help reduce stress & anxiety levels. 
I try to take a 10-minute break every hour of the day and this allows me to have productive days; or I would be out of spoons by Noon.
Conserve your energy by using mobility aids. Purchasing my power chair has been life changing and has helped me enormously in managing my disability and chronic fatigue.
I regularly exercise and walk as much as I can to keep my body fit and active and I rely on my power chair to manage my fatigue and improve my quality of life. Without it, I would only be able to do a fraction of the things I get done now and I would be tired and agitated more often.
Organize your spoons wisely.
If you know you have plans in the evening, take it easy in the day and rest accordingly so that you have enough energy to last you until the evening. For example, don't do something strenuous like a tiring workout or house cleaning on a day where you have plans in the evening. Understand that you have physical limitations and respect them; there's no shame in that.
Compromise
The holidays are full of traditions and preparations like decorating, baking, and cooking from scratch and these are great activities, but can be very tiring. Dealing with a chronic illness or even just getting older in general means that our body simply cannot do as much anymore and that's ok.
I've learned to adapt without giving up on traditions and I accomplish that by comprising a bit.
For example, choosing my local Greek bakery for traditional dishes and treats over hours in the kitchen, or going with the Pillsbury doughboy in lieu of my traditional shortbread cookies.
I'm happy, the family is happy, and at the end it's all good.
The same goes for receiving guests, it's ok to ask for help with food preparations and clean up and it doesn't have to be an all or nothing scenario.
Manage your Social Calendar and Set Boundaries
The holidays can get hectic with a lot of back-to-back events. Sometimes, we find it difficult to say No to these events because of family and/or social pressure and responsibilities.
That's understandable to some degree but keep in mind that no one quite understands what it means to have a chronic illness or disability unless they actually have one and no one will deal with the consequence of you physically or emotionally overexerting yourself more than you.
So, know your body and limits and plan your social calendar accordingly. Don't overextend yourself or feel guilty if you cancel something at the last minute because you aren't up to it. Don't agree to something out of fear of coming across impolite or not meeting obligations.
Sometimes we must learn to put ourselves first and say no to circumstances we don't feel up to being in. I for one, try not to accept social commitments that require me to stay out late on consecutive nights because I need a day in between to recover. So I plan my social calendar with a day break in between.
Surround yourself with people who are sensitive to your situation and are accommodating and understanding.
Protect your energy; the holidays bring all types of people together and sometimes these people aren't necessarily vibration matches to each other. Pay attention to your mood when you are in the company of certain people. Energy is contagious and if people or events leave you emotionally irritated and you feel your eyes beginning to roll backward (LOL) consider removing yourself from that situation. 
Sometimes this can simply be physically moving away from a group of people or shifting a conversation to another topic.
Eat Well, Stay Hydrated, and Exercise
You know your body better than anyone else and what foods help you to feel better or worse.
Sometimes eating certain foods like heavy foods or sugar and consuming alcohol takes a lot of energy for your body to digest and If you are already suffering from fatigue issues, being in a food coma doesn't help matters, that's for sure! So yes, indulging is normal over the holidays, but do so in moderation and you will feel better in the long run and your body will thank you for it.
Many of us go off our regular schedule and eating and sleeping routine during the holidays and forget to drink water because of that. Don't forget to stay hydrated as there are so many benefits to drinking water and the best one for spoonies is that it helps with fatigue. Being properly hydrated reduces migraines and headaches, helps regulate your mood, aids in digestion, flushes out toxins, improves brain function, and boosts the immune system.
Light, low impact exercise is very good to help with chronic fatigue as it boosts endorphins in our body which make us feel more energized. Reserve some spoons for exercise every day and the benefits will carry you through. Don't push hard or fast but find a comfortable set of exercises that you can do daily. Stretches and strengthening exercises are good examples.
Remember What's Important
In the end, the holidays are not about the decorations and preparations, the shopping and the gifts or the ribbons and bows. In the words of Dr. Seuss from the "Grinch who stole Christmas" he says "Maybe Christmas (he thought) doesn't come from a store. Maybe Christmas perhaps means a little bit more."
It can get easy to get overwhelmed with the secondary stuff and forget that the holidays are really about peace, love, joy, acceptance, and the spirit of giving and gratitude. So, when I begin to feel tired or overwhelmed or even agitated with people, I remind myself that even though the festivities are fun, the true meaning of the holiday season is to feel peace and joy in my heart.
I remind myself that those feelings are always accessible if I just take the time to relax, close my eyes, and feel them. I remind myself that the holidays are about spending time and showing affection to the people in our lives that we love and appreciate.
And you don't need all the bells and whistles to do that.