How the Right Lift Recliner Brought Joy & Music Back to Jack Briseno's Life
As he fought an arduous battle against stage 4 cancer, Jack Briseno of Naperville, Illinois, held tightly onto several things that gave him strength in his fight. His family, friends, and music played an important role during his time battling the disease, but another quite unexpected source of comfort made the journey a much more peaceful and smooth one: Jack became the proud owner of five different Golden Technologies lift chairs. Both he and his wife, Kathy, credit them with giving quality to the last years of his life.
It was from one of those chairs—one that stayed at a local restaurant and bar where he emceed a music night—that Jack often shared one of his life mottos.
"At the end of the evening he would tell everyone, 'These are the good old days.' That was his line," Kathy Briseno said.
Rich Moore, owner of Shanahan's Food and Spirits in Woodbridge, said that Jack would often feel too bad to perform from the stage. But he'd always end the evening on a high note.
"When it was time for him to say a few words, I would hand the mic back to him, and he would close up the show with his favorite line, 'These are the good old days,'" Moore said. "But it was hard to see him smile and close his eyes when he wasn't feeling good."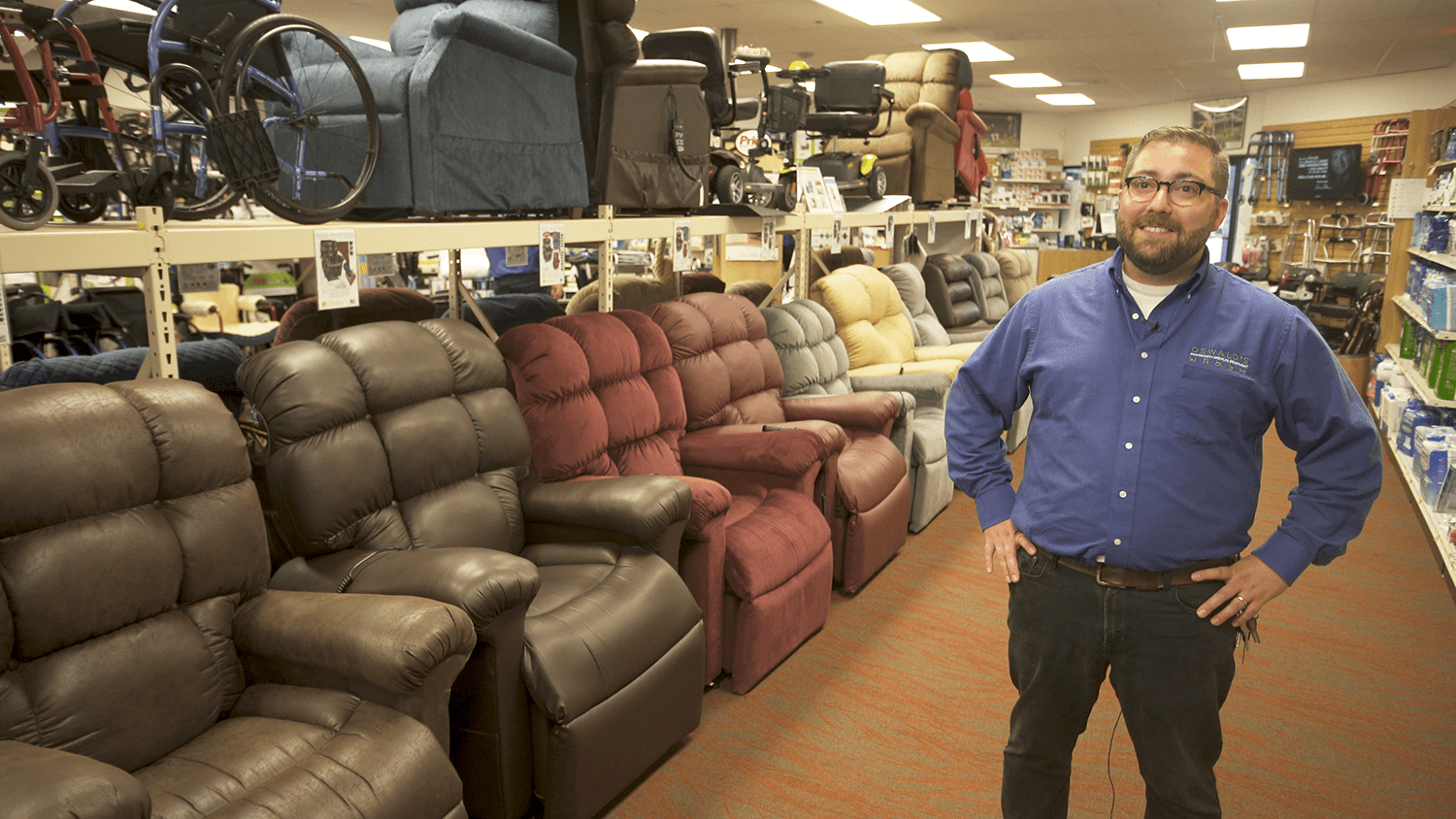 Search For Comfort
Jack Briseno's cancer diagnosis progressed quickly to a point where he couldn't sit or sleep comfortably, and his wife knew something had to be done about the situation.
"As the years went on, it got progressively worse, went into his bones, and it was very difficult for him to sit comfortably. Jack couldn't get in and out of our bed anymore," Briseno said.
She visited a furniture store and purchased a lift chair, but they quickly discovered it wasn't the answer. "We were excited because we thought it was something that Jack was going to be comfortable in, but once we got it home, we realized it didn't fit him. His feet didn't touch the ground," she said. "We really just didn't know how this was going to work for him."
The answer came in the form of the 143-year-old Oswald's Pharmacy in downtown Naperville, where Alex Anderson first showed the Brisenos its collection of Golden power lift recliners.
When she saw these chairs and saw what they could do, she was pretty disappointed with her previous purchase," said Anderson, who is a sixth-generation owner at Oswald's.
Briseno said she was immediately impressed with the selections and the options at the store. She was equally impressed with the knowledgeable staff.
"I realized that there were people who knew something about a product and weren't just selling a chair. It was the fit that was the most important thing, and we spent hours there with Alex letting Jack try out chairs, explaining the products.
"When Jack sat on this chair, he really did cry," she said. And that was the first chair purchase.
Jack's Lift Chair Collection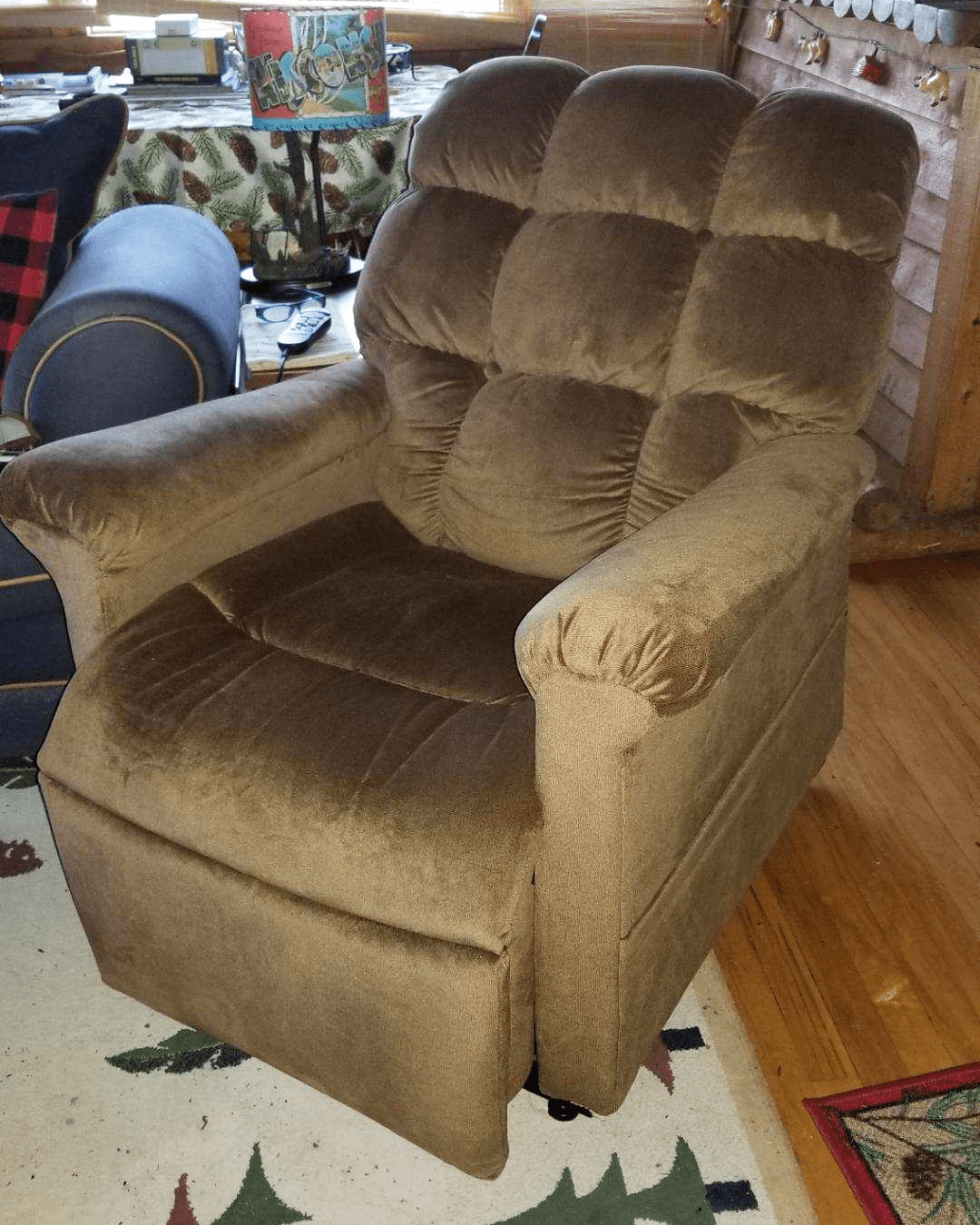 That wasn't the last Golden lift recliner the family purchased—not even close. The Brisenos purchased their second lift recliner for a vacation cabin in Whitewater, Wisconsin.
"Jack wasn't able to go there, and it was one of his favorite places to go," Briseno said. "It wasn't comfortable to be on a couch, and he couldn't sleep in a bed there. So, I got the idea to find out if we could buy a chair and send it up to Wisconsin."
A few months later, she went back to Oswald's to add to her purchase. She had decided that they needed a lift recliner on every level so that Jack could sleep in an upstairs bedroom if he wished. Also, especially important, was a chair in the basement, where Jack loved to have parties with music.
"She had chairs on every floor, which we just thought was really cool and the first time we've ever seen that for a customer," Anderson said.
Having a Golden lift recliner in every area of the home was a truly freeing experience, according to Briseno. The ability to recline, rest, and sleep in any location gave her husband freedom and peace of mind.
"The chair gave him some freedom. He would say things like it saved his life," she said. "He couldn't believe how comfortable he felt, that he'd be able to sleep, and how his back didn't hurt when he was in the chair."
For the Love of Music & Friendship
When he was in good health, Jack often spent up to five evenings each week at Shanahan's.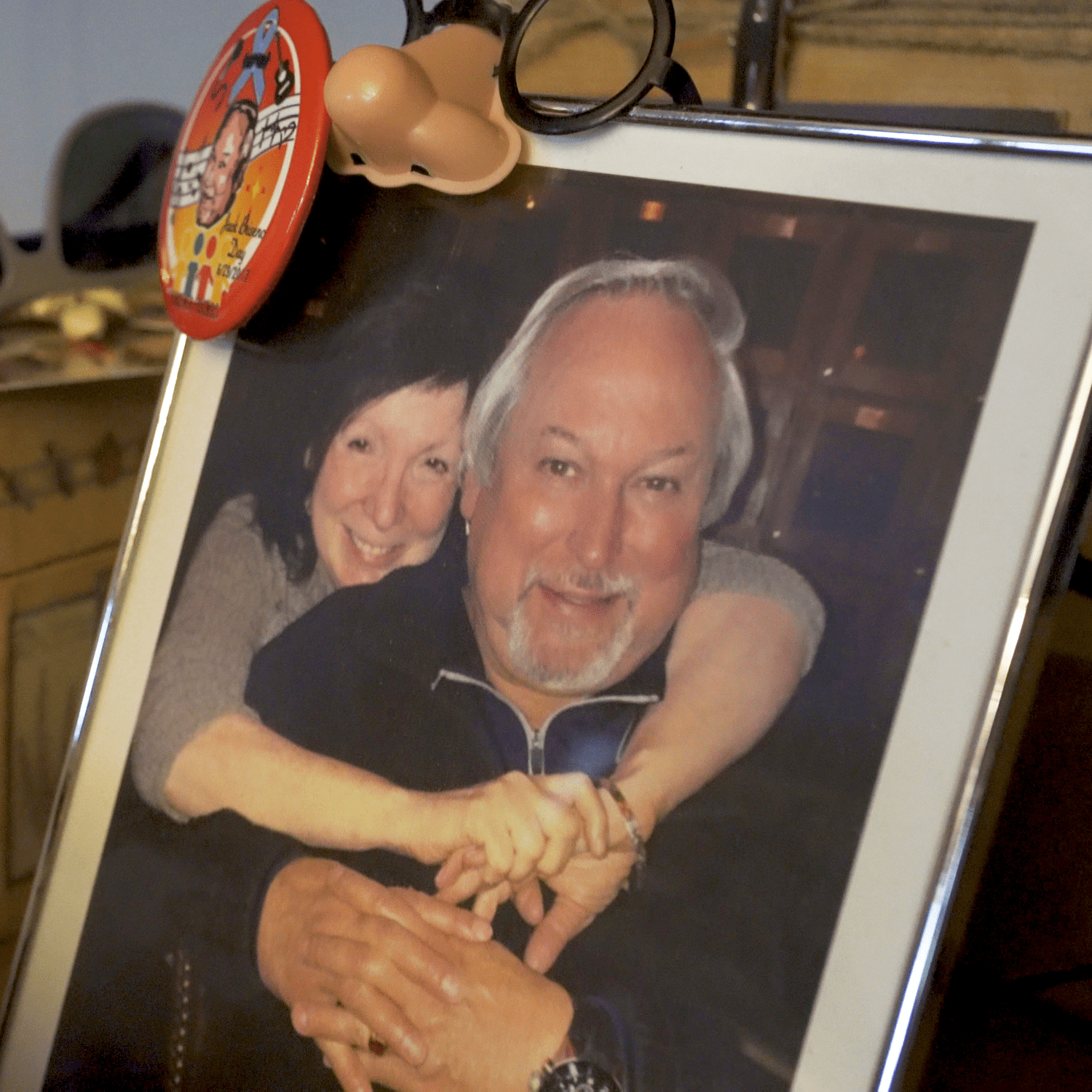 He would listen to the band playing, and he would regularly become the Master of Ceremonies for the night's entertainment. As his health deteriorated, however, visits to his favorite bar became less common.
"Truthfully, a lot of times people came because Jack was emcee. It would just be an amazing night of music—standing room only." Briseno recalled. "But then he wasn't even making it more than five minutes a week, or at all. He had a pillow, a blanket, and there were times we'd bring a canvas director's chair. But nothing was comfortable, and I was like, 'We have to do something'."
Oswald's James Hiltenbrand said it was the one and only time his store installed a lift chair in a bar—but that it perfectly exemplified how Golden products enhance every aspect of a customer's life.
Family friend and fellow music lover, Donna Rice, reiterated that the move of the chair to Shanahan's made a huge difference to the Brisenos. It also allowed the friends to have more time together.
"Because Kathy brought a chair here and because Rich made room for this chair for Jack, [he] could be here on Wednesdays and Thursdays, and he could endure the pain, and he could stay in his seat," Rice said. "He would be able to enjoy the music, and selfishly, we would be able to enjoy him. As far as that chair goes, it paid for itself 100 times over because Jack was able to be with us."

The Lift Chair Legacy Continues
Jack's legacy lives on in the memories the chair at Shanahan's evokes for his friends and other regular customers.
"If you look at that chair, you're like, it's Jack in a chair form because all those memories start flooding back about him," Rice said. "About how kind he was, how thoughtful he was, how he was the type of person that made you laugh, and think about not sweating the small stuff and to enjoy the moment. That was Jack. He lives on."
And the importance of lift recliners in Jack's cancer battle lives on in the way it has affected others around him.
His wife recently had surgery for thyroid cancer, and when she talked to doctors about how to handle getting out of bed after having her thyroid removed, she immediately realized that a Golden chair would help her in her recovery.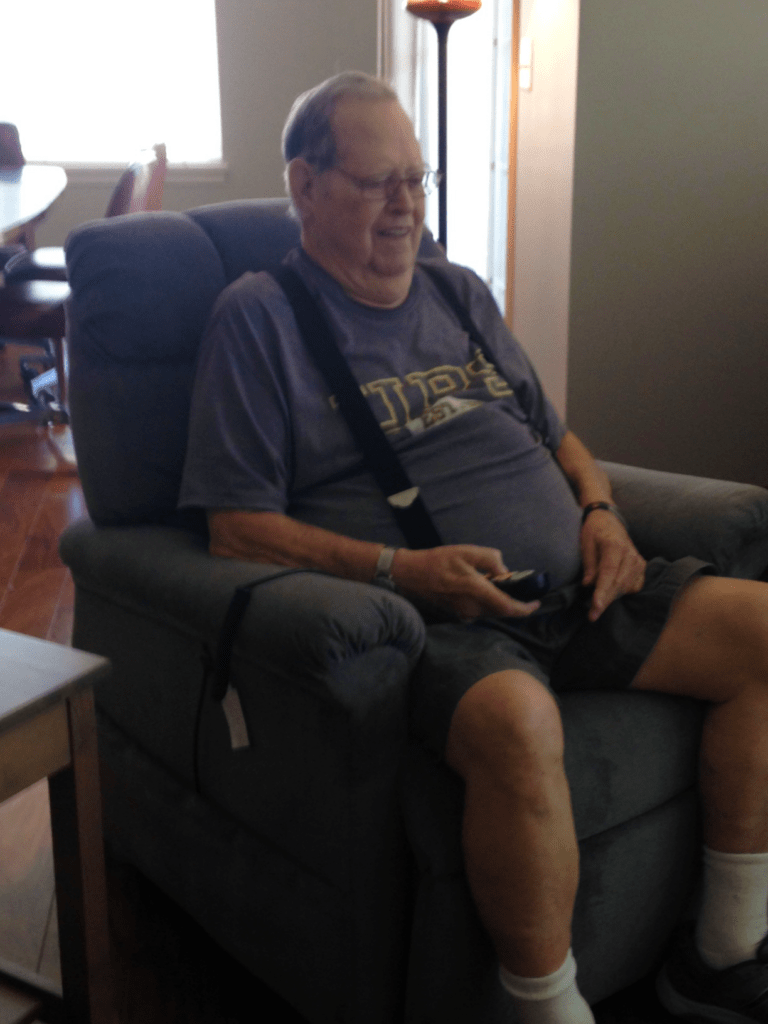 "I came home and I looked at the chair, and I'm like, I know where I'm sleeping. Probably for two, three weeks, I stayed in the lift chair," she said. "It lifted me up, I didn't have to put any strain on myself, and I knew what Jack meant. Being able to press a button and have it just lift me up, so there was no strain or anything, and I understood what Jack meant in regards to how important it was to have something like this for us."
Briseno said that Golden lift chairs have also helped their daughter during an uncomfortable pregnancy, and have also benefitted a volunteer veterans' group Jack believed in.
The benefits that the Golden lift recliners provided to Jack Briseno—and for those around him—were truly immeasurable. His wife said that all of the chairs in Jack's life made his last days truly good.
"I wish Jack could be in this chair now. Who's ever heard of anyone having five chairs?" she said. "I mean, they're not [inexpensive]. I knew it would make his life better, and so I wanted that for him. What mattered was that he was comfortable."