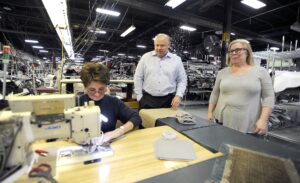 March 30, 2020 COVID-19 Update
Though we are experiencing a time of uncertainty, one thing you can be certain about is Golden. We
are here to offer all the support you need to provide your customers with the outstanding service,
products and care they deserve. The following are ways we can support you today.
Business Hours: Golden is listed as an essential business under the category of medical
manufacturing. Therefore, all departments are fully functional and operating at a reduced capacity. Our business hours of operation have been adjusted to Monday through Friday, 8:30 AM – 5 PM EST. A vital part of being fully operational is practicing all standards set forth by the CDC to ensure the health and safety of our employees. This includes social distancing, proper hand washing and regular
sanitizing of workstations. In addition, all employees that can work remotely have been asked to do so.
Quick Ship Inventory: We understand that the need for our product has not diminished during this
time of uncertainty. We have thousands of power lift recliners and mobility products in-stock throughout the United States that are ready to be shipped to meet your customer's immediate needs.
Retailer Support: Sales, marketing and service departments are available and here to support your
business in any way possible.
Product Development: The R&D department has been working to ensure that you have the most
innovative products to offer your customers once this pandemic is behind us.
In addition to our normal daily operations, we are continuing to partner with Geisinger Health Care
Systems to manufacture disposable face masks to help safeguard their employees as they care for our loved ones and our community. We are happy to be able to make a difference during the shortage of vital personal protective equipment.
In closing, I would like to express my sincere gratitude to local, state and government officials that have worked tirelessly to provide stimulus packages for businesses and individuals during this time of need. We are all in this together and I heartily believe we will come out of it stronger than ever!
Stay safe and stay well.
Sincerely yours,
Richard Golden, CEO