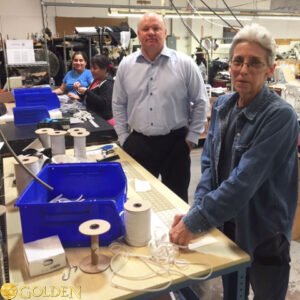 As COVID-19 is impacting more and more individuals around the globe, home medical equipment manufacturer, Golden Technologies, is initiating efforts to assist local healthcare professionals by providing vital personal protective equipment to stop the spread of the virus in Northeastern Pennsylvania.
"Concerned about the availability of medical supplies in our area and around the country, we identified a way to use the exceptional skills of our employees in our power lift chair division and the capabilities within our manufacturing facility to quickly produce disposable face masks for our local healthcare providers," said Rich Golden, CEO of Golden Technologies.
"We reached out to Geisinger—one of our great community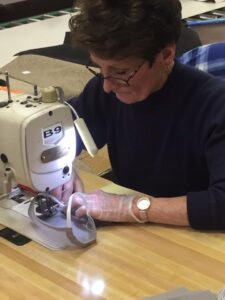 healthcare systems—and invited their leadership to visit Golden to propose our idea and present a sample mask sewn by one of our employees, which was enthusiastically received," he added. Chief Medical Officer, Dr. Gerald Maloney, and Director of Emergency Management, Stephanie Gryboski attended the meeting last week.
"Geisinger is very appreciative of Golden to be able to provide masks to our staff to be used during this pandemic," said Gryboski. "We were pleased to meet with Golden executives and have discussions around protecting our healthcare workers," she added.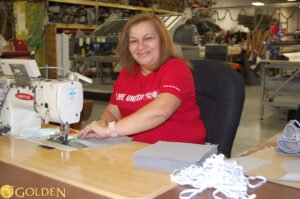 Golden began cutting fabric and sewing face masks this week to donate to Geisinger for distribution in Lackawanna and Luzerne Counties. Golden employees are eager to work on the masks and take action during this challenging and uncertain time.
"It is our great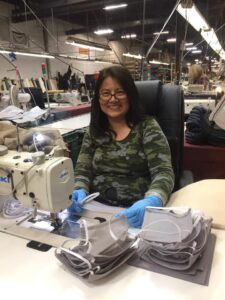 honor to provide our outstanding healthcare professionals the equipment they need to keep themselves safe as they help care for our families, friends, and neighbors," said Golden. "I am extremely proud that we are doing our patriotic duty in defending our great nation against this virus and playing an even more important role in the communities where we live and work."
Ad
ditionally, Golden is using its strong supply chain partnerships in Asia and abroad to ship what could be several hundred thousand masks as quickly as possible.