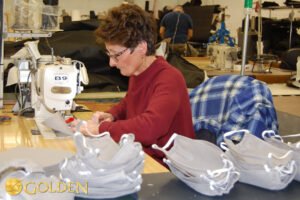 COVID-19 Update March 23, 2020
As we continue to closely monitor coronavirus (COVID-19) developments, the health of our employees remains at the forefront of all decision making. I want to assure you that Golden is following all workplace guidelines from the Centers for Disease Control & Prevention (CDC) for the safety of our employees and customers. We hope that you, too, are following the strong recommendations of the CDC to keep yourself and your family safe by keeping hands clean, practicing social distancing, and staying home.
These are unique circumstances, and responsible and deliberate decisions are being made so that we can continue to provide support to our retailers. At this time, we are operating with the help of essential personnel only to continue our mission. Please know that those employees requested to report to work will be doing so operating under new strict social distancing guidelines. Those selected to be on the phones or working to keep the lines open are doing so remotely.
We have also made the decision to temporarily reduce our workforce for the safety of our employees as well as the safety of those in our community. We hope that this is a short-term situation and we look forward to our Golden team being intact again after the country recovers from this national emergency. We do expect business to surge thanks to everyone being home for so long stuck in their home thinking of ways to improve their quality of life and living space.
In these unprecedented times, we also have a unique opportunity to strengthen our resolve to always be the best at what we do. We will have many new and exciting products coming soon and we will need the team's help to launch them over the coming months. New technology! More innovation! Unprecedented expansion!
Additionally, I am extremely proud to tell you that we are doing our patriotic duty in defending our great nation against this virus and playing an even more vital role in our community. We approached Geisinger, one our large community health systems, to offer our assistance in producing vital personal protective equipment. Starting today, we will begin cutting fabric and sewing disposable surgical face masks for our local healthcare professionals so they may be safe while they care for our families, friends and neighbors. We are truly making a difference!
Given the fluid nature of ongoing developments, we will share new, pertinent information as it becomes available.
As always, we appreciate your continued partnership during this time of uncertainty.
Sincerely yours,
Richard Golden, CEO
Worry ends where faith begins.
2 Cor-5:7