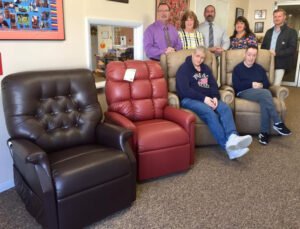 Old Forge, PA – Golden Technologies is supporting its local community by donating several luxury power lift recliners to The Arc of Northeastern Pennsylvania (NEPA) for the enjoyment of consumers participating in their day programs. The Arc is dedicated to advocating for people with intellectual and developmental disabilities.
"We are happy to bring comfort and joy to our friends at The Arc of NEPA by providing high-quality seating to improve their quality of life and add to their sense of independence," said Rich Golden, CEO of Golden Technologies. "We recognize the importance of meeting the needs of aging adults and are so honored to contribute to The Arc's warm and friendly atmosphere with our power lift recliners," he added. Golden is the world's leading manufacturer of luxurious power lift and recliner chairs and is based in nearby Old Forge, PA.
"The very generous donation of four, plush, power lift/recliner chairs from Golden Technologies provide a superior level of comfort for the individuals served by The Arc of NEPA. Our gratitude to Mr. Richard Golden and his team is overflowing," said Maryclaire Kretsch, Executive Director of The Arc of NEPA.
Chris Carroll, Golden's Director of Marketing, serves on the Arc of Northeastern Pennsylvania's Board of Directors. "The leadership and staff at The Arc work tirelessly and unselfishly to offer much-needed resources to people in the community," she said. "Every small improvement matters in the lives of the individuals they help, so the team at Golden is especially gratified to see that our lift chairs will give them the comfort and independence they deserve for years to come."
The Golden power lift recliners donated were proudly made by Americans in Old Forge, PA, with domestic and imported materials.
The Arc of NEPA is affiliated with The Arc of the United States and The United Way of Lackawanna and Wayne Counties.