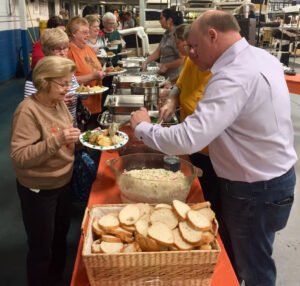 Old Forge, PA – Golden Technologies hosted their annual Thanksgiving Feast for over 400 employees. Golden's Chief Executive Officer, Richard Golden, and his wife, Christine Golden, are honored to provide a Thanksgiving meal to all Golden employees within four buildings during the company's lunchtime. This is a tradition that began almost 20 years ago.
"This is our way of celebrating Thanksgiving with the entire company. We're so grateful to all of our employees for their hard work and effort throughout the year," said Rich Golden, CEO. What better way to show gratitude than to personally invite every employee to a Thanksgiving feast – and this is no small meal. Over 400 pounds of turkey, 200 pounds of potatoes, 200 pounds of stuffing, 110 pounds of vegetables, 40 pounds of coleslaw, 15 loaves of bread, seven gallons of gravy, and tons of pumpkin and apple pie were served to Golden employees on Friday, November 22, 2019.
"We truly appreciate the dedication from our employees on the Golden team. This is our way of serving up the holidays early to provide a great event that employees can share with their co-workers and giving thanks for our many opportunities and each other," said Golden.